Features & Benefits
Wizard like workflow
Follow the general processing steps:
Study and Procedure selection: list studies and procedures side-by-side in procedure browser
Role selection:  assign image roles with automatic role assignment and integrated real time image validator tool
Change configuration: set study parameters and required data for processing
ROI definition: choose from the wide range of ROI tools for quick and easy definition of regions to be observed
Show results: visualize measurements on interactive plots and display statistics in tables
Create report: export highly customizable reports from any result pages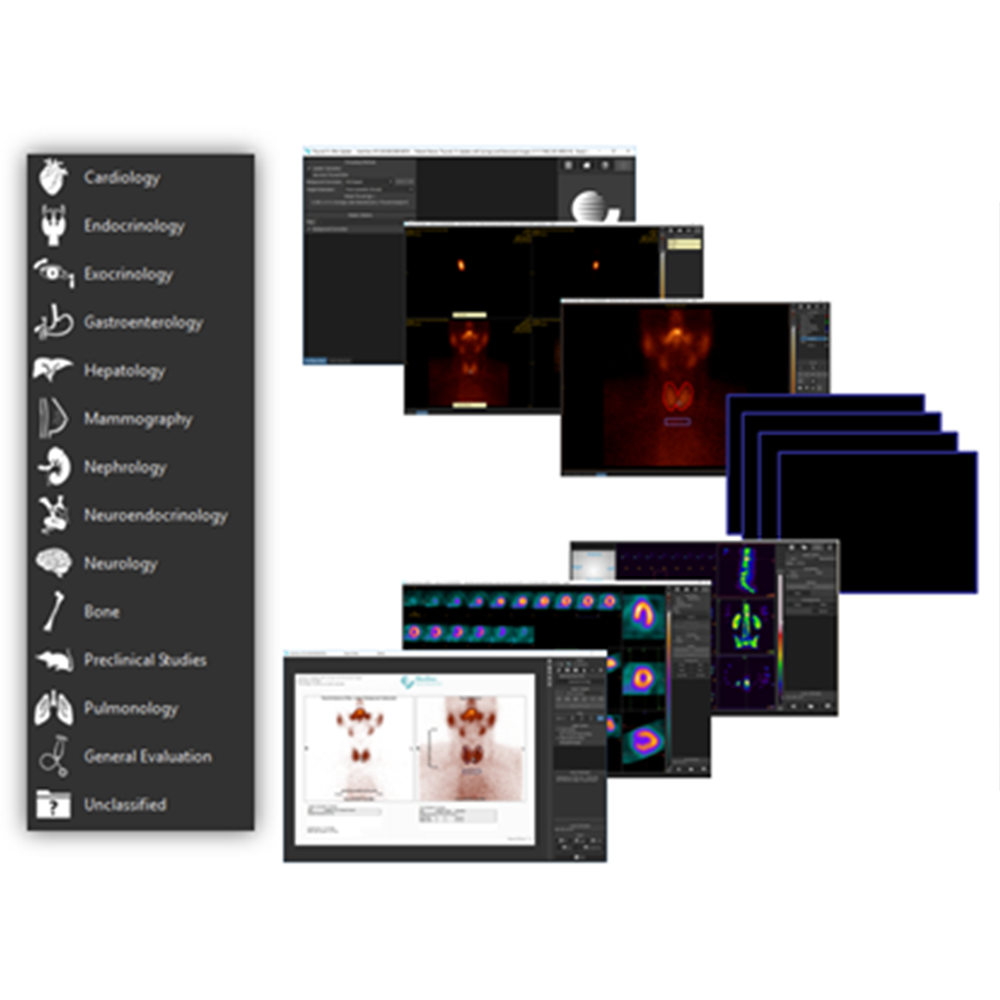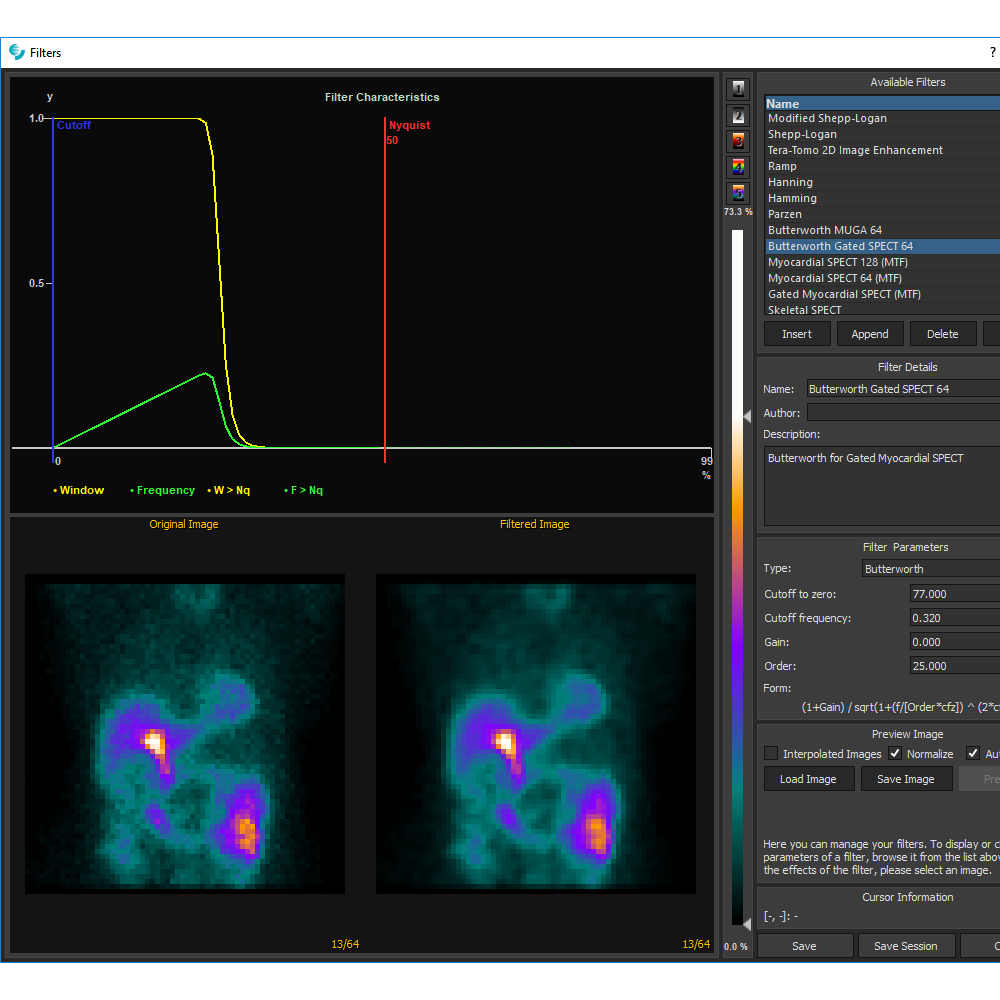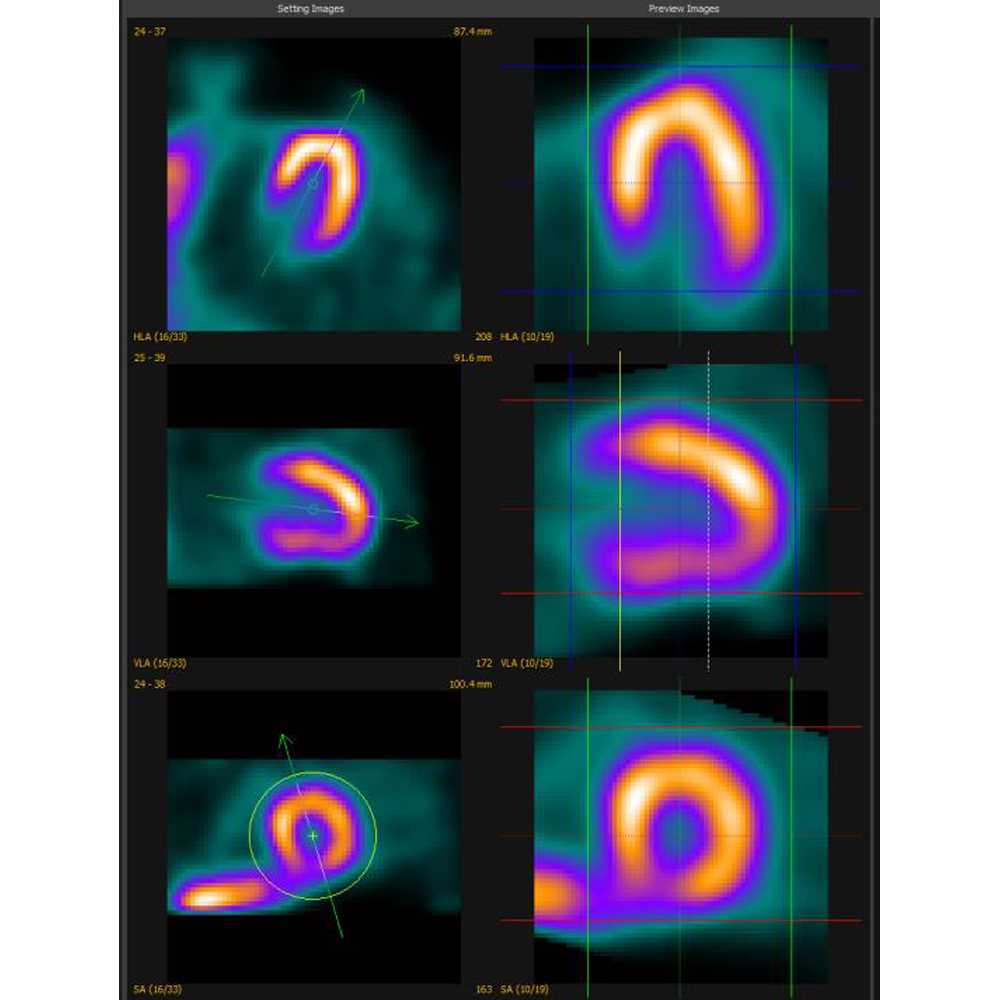 Image processing tools
Fast 2D- and 3D-filters on both spatial and frequency domain
Fine tune filters with filter editor tool
Remove disturbing high activity areas with clear area option
Correct images with activity, decay and scatter corrections
Fast automatic registration of different modalities in reconstruction engine
Manual or automatic motion correction for both planar and SPECT images
Manual or automatic reorientation of cardiac studies
Resample images to different resolution
Data visualization
Polar maps or bulls eye diagrams for cardiac studies
3D visualization of cardiac images including gated motion
Display condensated images to detect motion in dynamic planar images
Detect motion artefacts on SPECT images with sinogram or linogram
Visualize important parameters on dynamic images with parametric image
Time Activity curves including marker tools for curve fitting and smoothing, setting up an interval or defining range, start and end time.
Display image statistics on histogram or profile views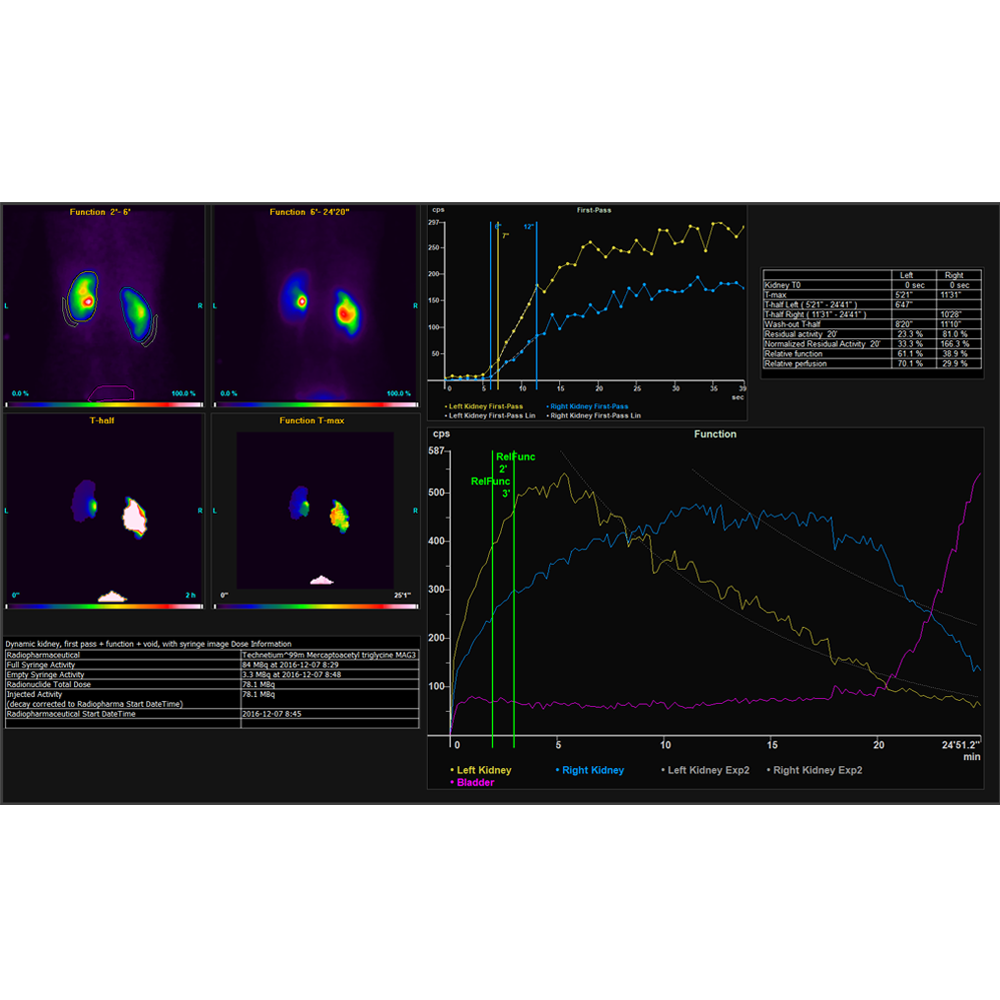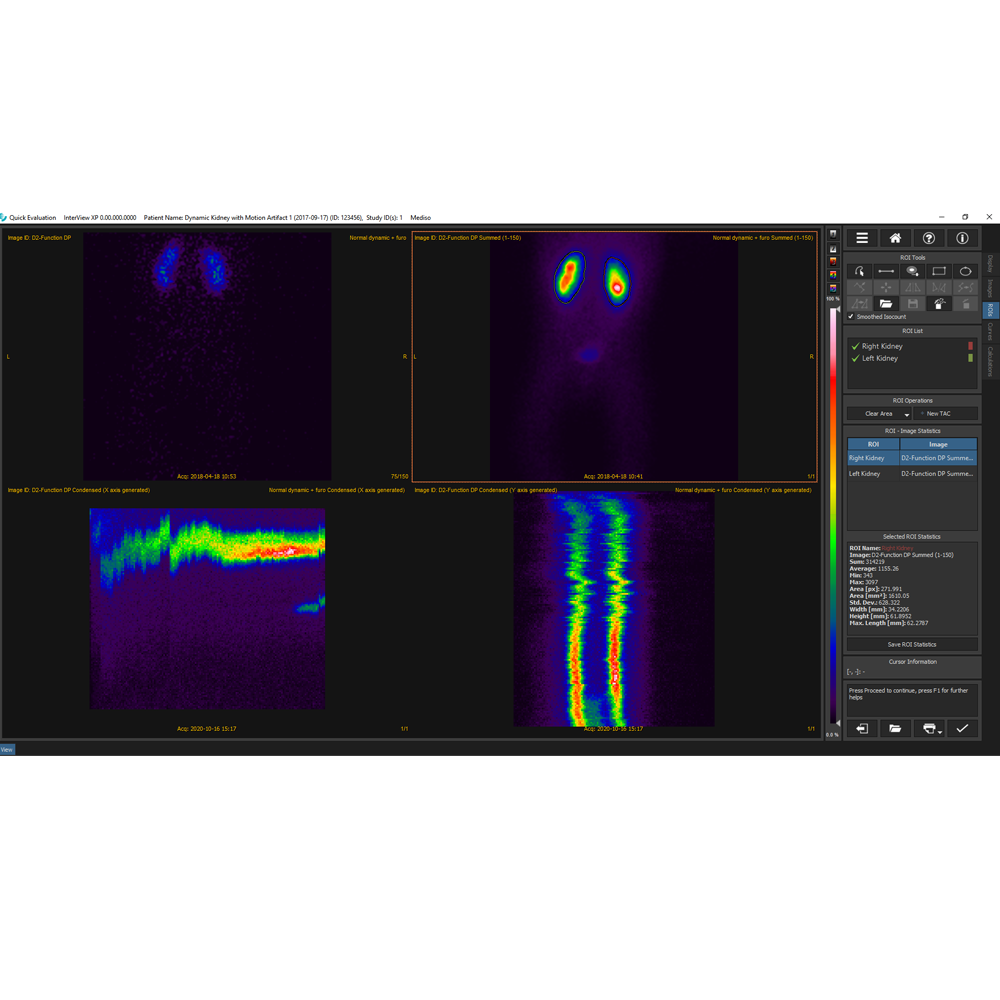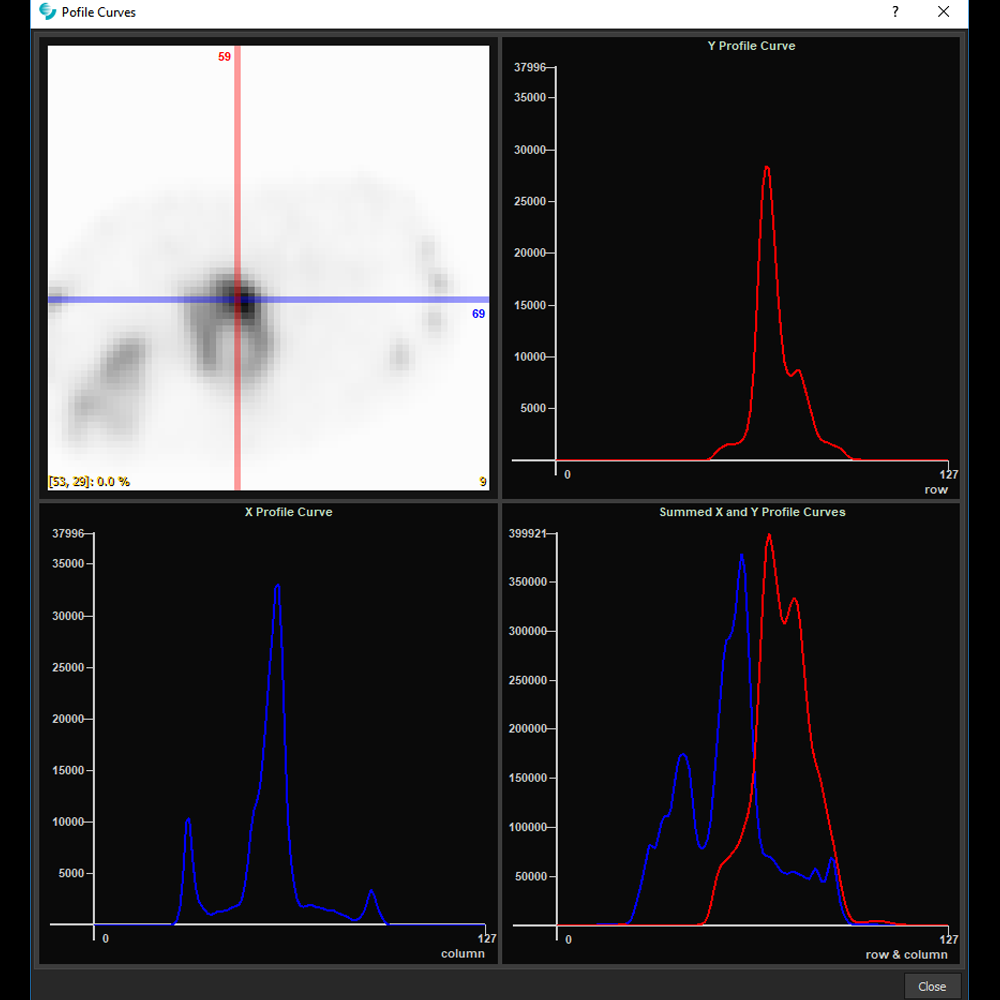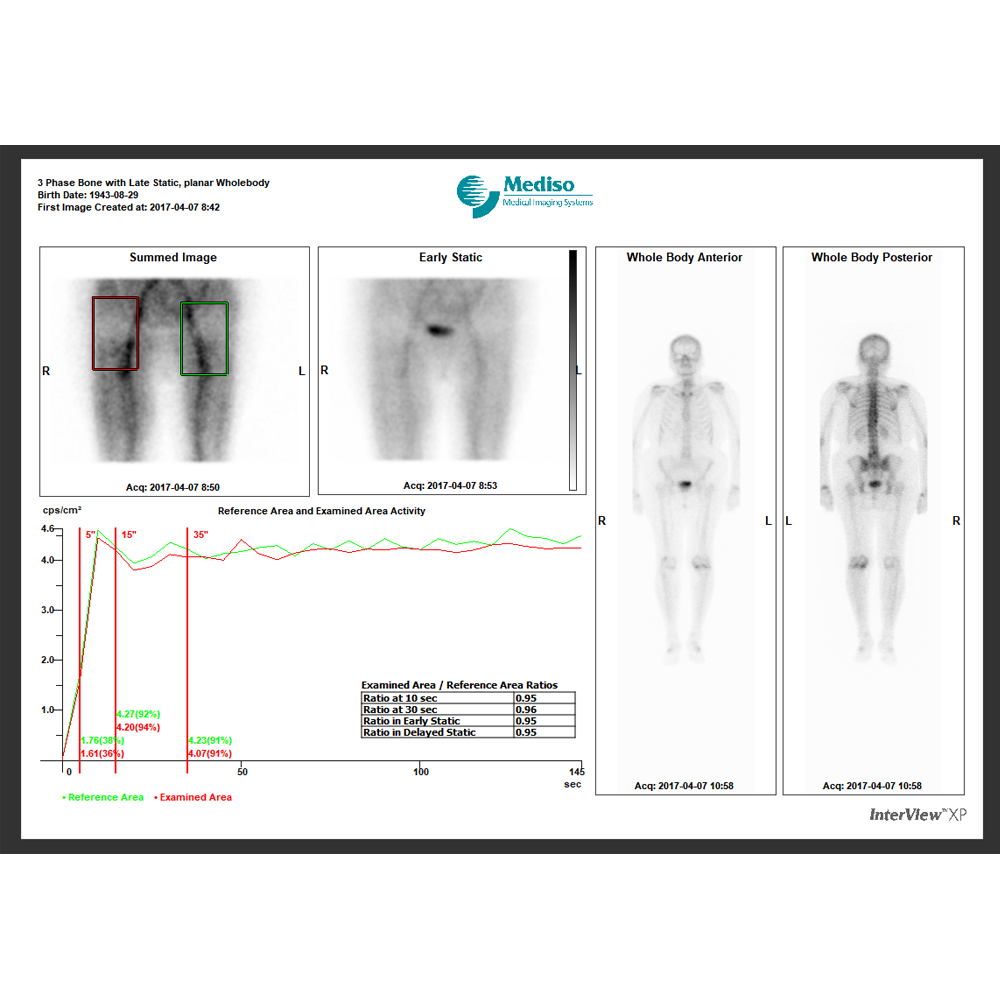 Export results and reporting
Mark interesting regions with rulers, markers and polylines
Choose report content from the various result pages
Create different report templates for each procedure
Customize report structure and content to best fit the institution needs
Integrate third party software reports to Mediso report
Burn results to CD with InterViewTM FUSION Lite providing extended toolset for image review
Export results not only in DICOM but PNG, JPEG, PDF
Third party software
Extend functionalities of InterView XP with third party software
Invia's Corridor 4DM SPECT and PET molecular imaging packages
Cedars Sinai's QGS, QPS and QBS packages
Emory Cardiac Toolbox SPECT and PET packages
NeuroQ brain imaging analysis base software with optional normal databases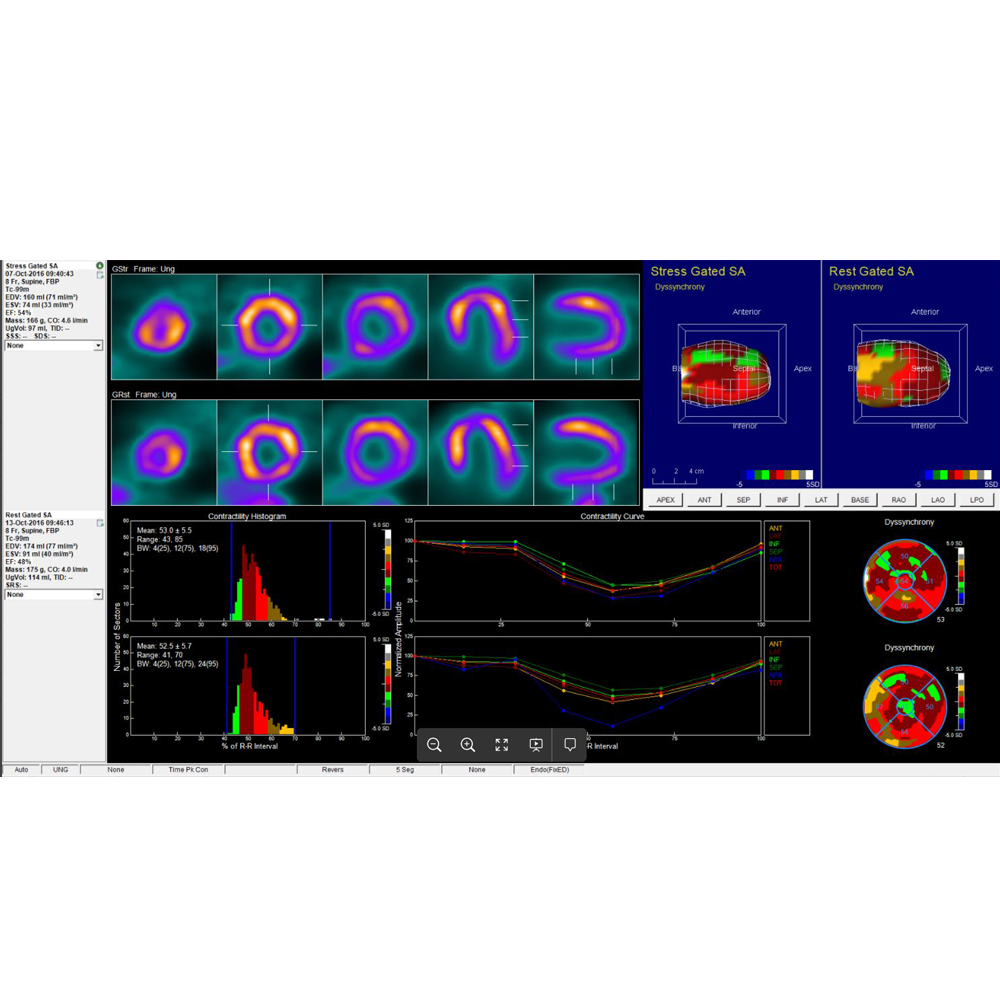 Applications
Osteology
Examine planar whole body NM and spot images with Whole Body Bone procedure
Compare early images, reflecting blood perfusion or blood content, with the "regular" late images in 3-Phase Bone Scintigraphy procedure
Calculate sacroiliac joint-to-sacrum ratio in Sacroiliac Index procedure
Bone SPECT-CT allows a better localization of the abnormalities shown on the WB scan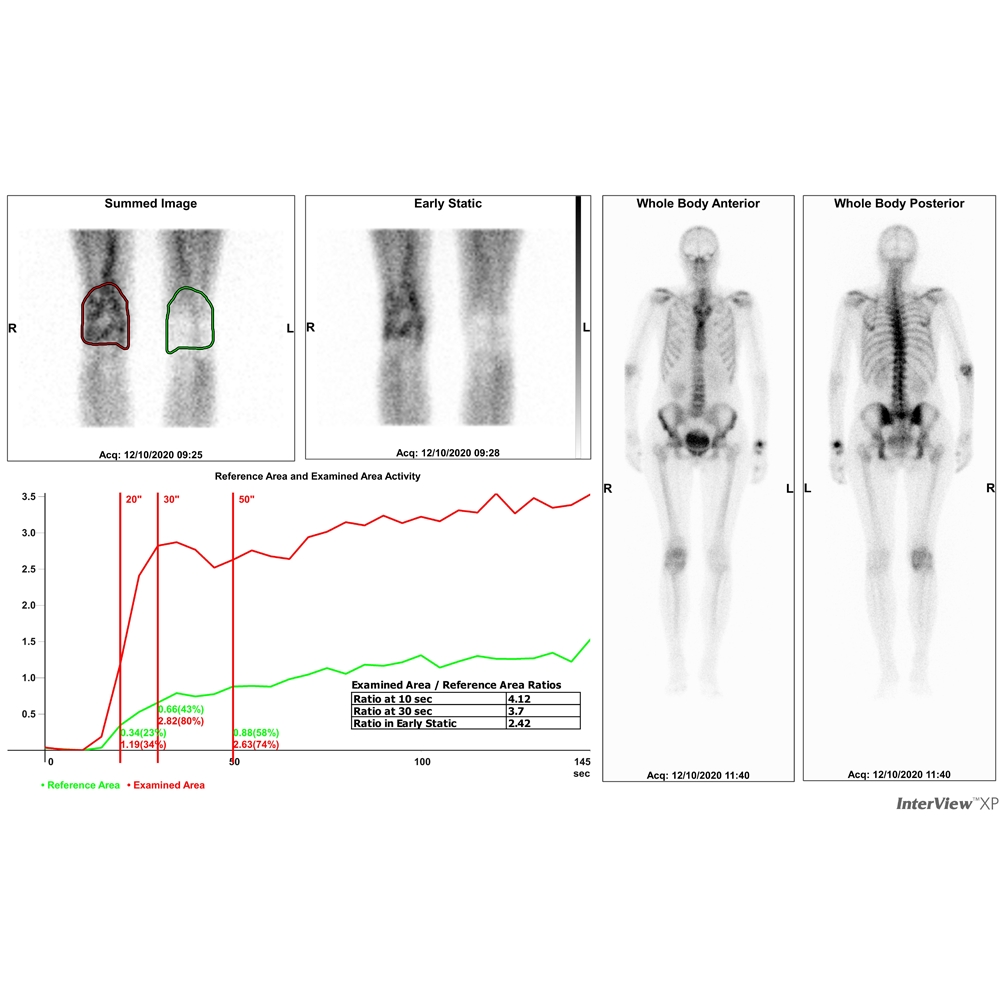 Cardiology
Gated and non-gated SPECT MPI protocols
Reveal relative and fixed perfusion defects for non-gated studies
Calculate EDV, ESV, EF, motion and thickening for gated studies
Gated blood pool SPECT for identifying regional wall motion abnormalities and estimating ventricular volumes
Blood pool imaging of first pass and equilibrium gated planar studies
Cardiac first-pass imaging to quantify intracardiac shunt or left or right ventricular function
Equilibrium gated planar radionuclide ventriculography (ERNV) for the measurement of left ventricular function
Extended cardiology functionalities with third party software including normal databases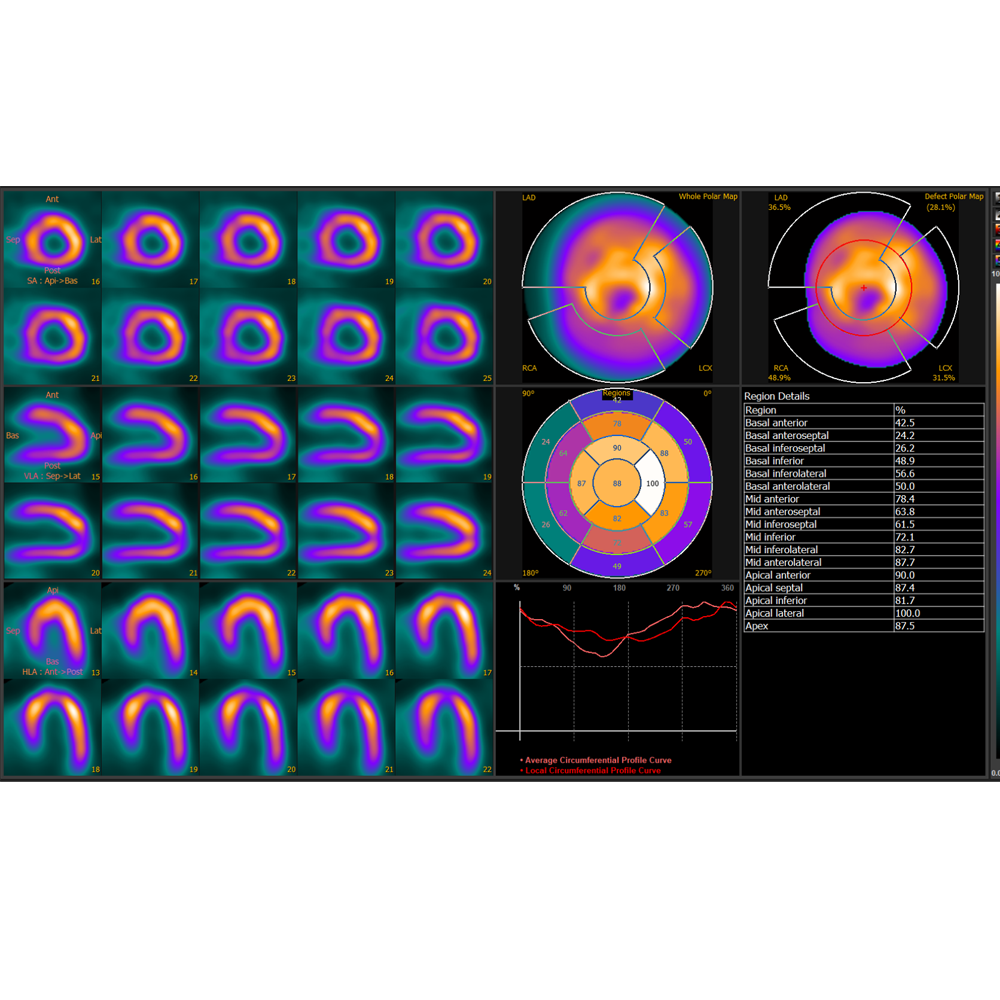 Neurology
Evaluate Brain first-pass images to determine functional disturbs after inflammations and radioiodine therapies
Visualize and quantify dopamine transporter levels in the brain with images
Optional module for automated analysis of brain PET/SPECT scans including ECD and HMPAO SPECT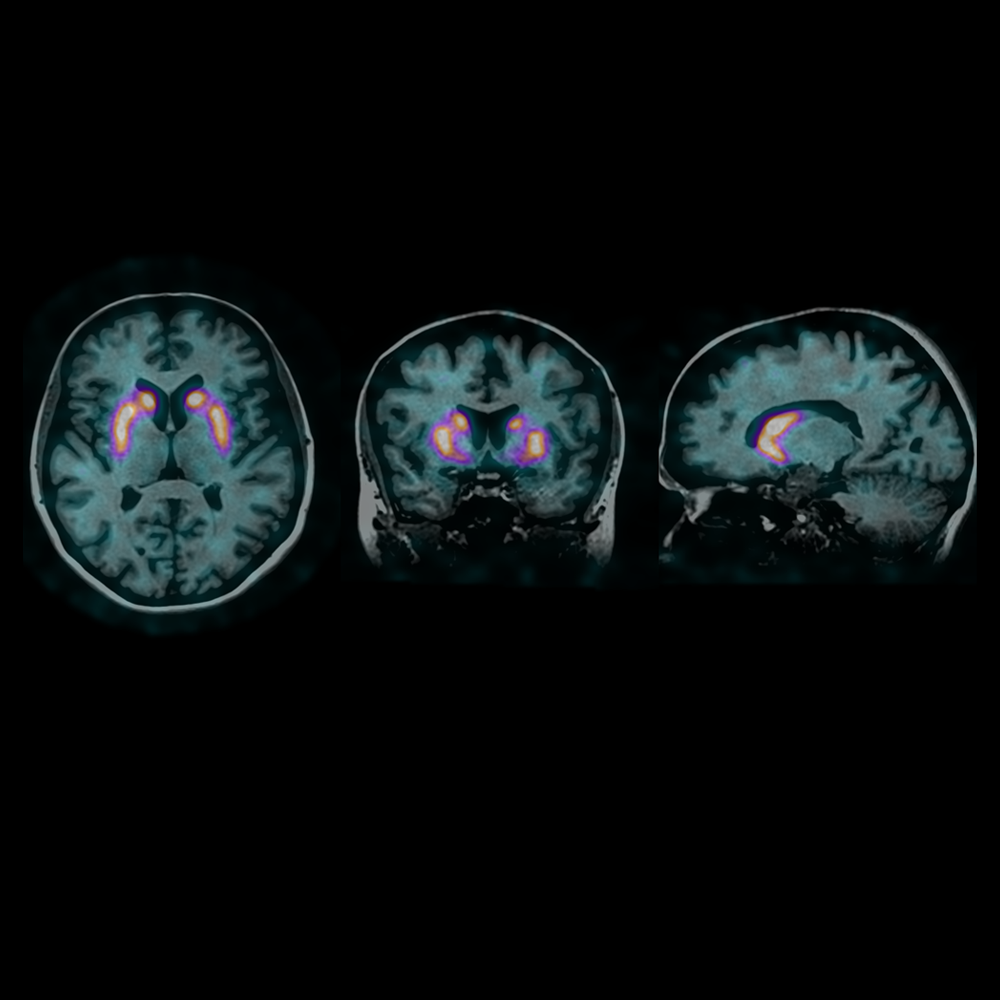 Endocrinology
Uptake calculation from thyroid Tc-99m-Pertechnetate scintigraphy
Calculate thyroid Iodine uptake and estimate dose for therapy
Thyroid I-123 Clearance
Various thyroid mass estimation methods for the estimation of the whole thyroid, the left and right lobes and nodules
Localize and estimate parathyroid adenoma with Dual radiopharmaceutical parathyroid imaging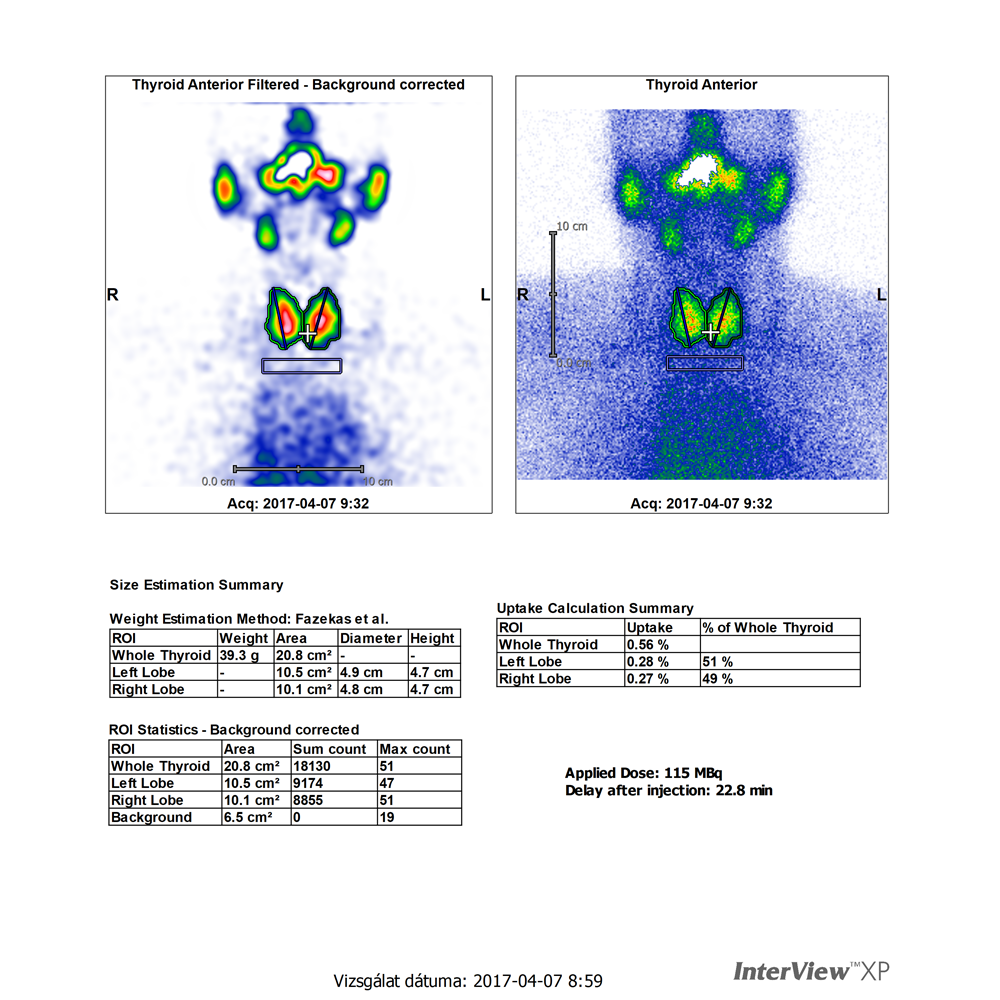 Nephrology
Static Kidney procedure allows visual assessment of kidney abnormalities and quantitative measurement of split renal function
Dynamic Kidney First-Pass procedure for the examination of kidney perfusion
Dynamic Kidney Renography procedure for examination of relative function and calculation of residual activity statistics for the kidneys
Deconvolution Analysis of Renal Blood Flow studies calculate mean transit time and output efficiency statistics for the kidneys
Dynamic Kidney Clearance procedure is dedicated to calculate residual activity, GFR/TER/ERPF values and output efficiency statistics for the kidneys
Dynamic Kidney Transplant procedure allows calculations on transplanted kidney the perfusion and functional index statistics
Kidney Clearance calculation without image data but with patient data, standard and blood samples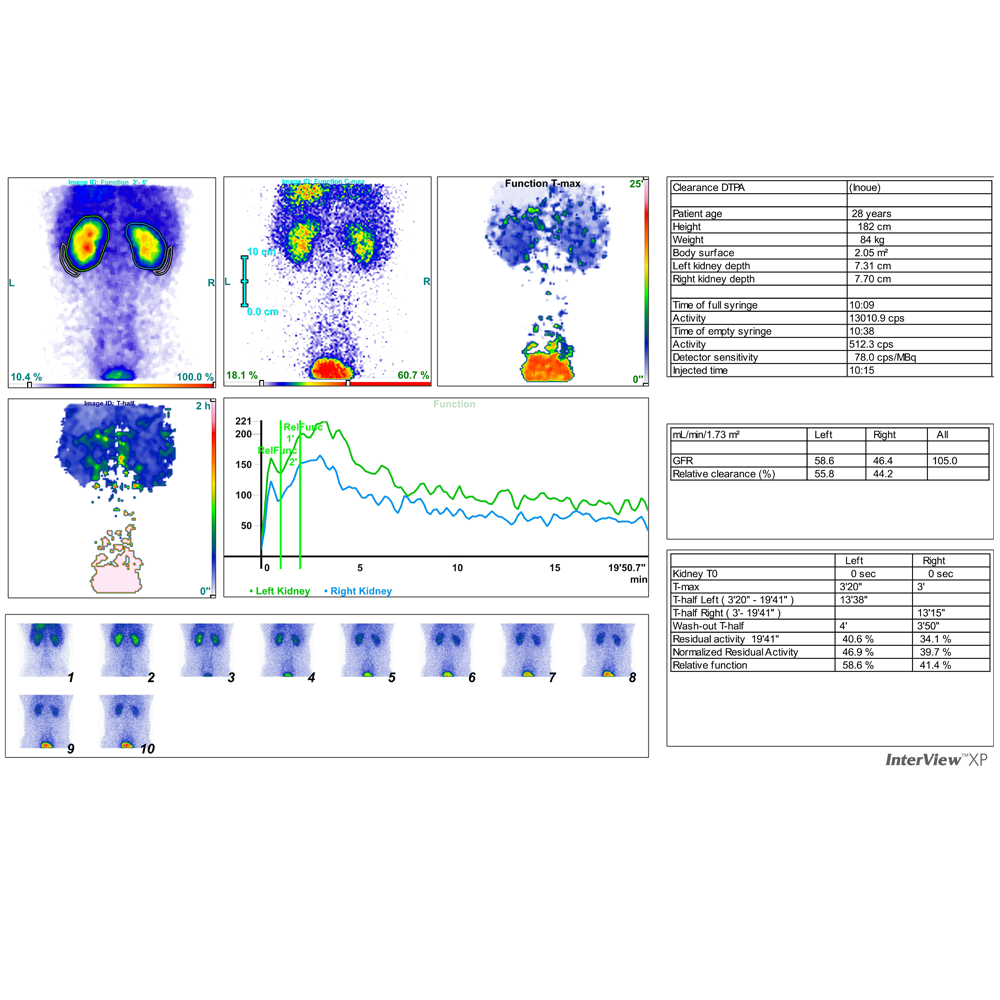 Gastroenterology and hepatology
Oesophagus procedure to asses oesophageal transit and gastroesophageal reflux
Evaluate gastric emptying with the possibility of geometric mean calculation
Static Liver and Spleen Scintigraphy evaluation to assess the size, shape, and position of the liver and spleen
Gallbladder procedure aims to derive various quantitative functional parameters from hepatobiliary studies acquired using different protocols, with or without provocations.
Cholescintigraphy procedure evaluates liver perfusion, gallbladder and biliary system function or HIDA on dynamic and/or static images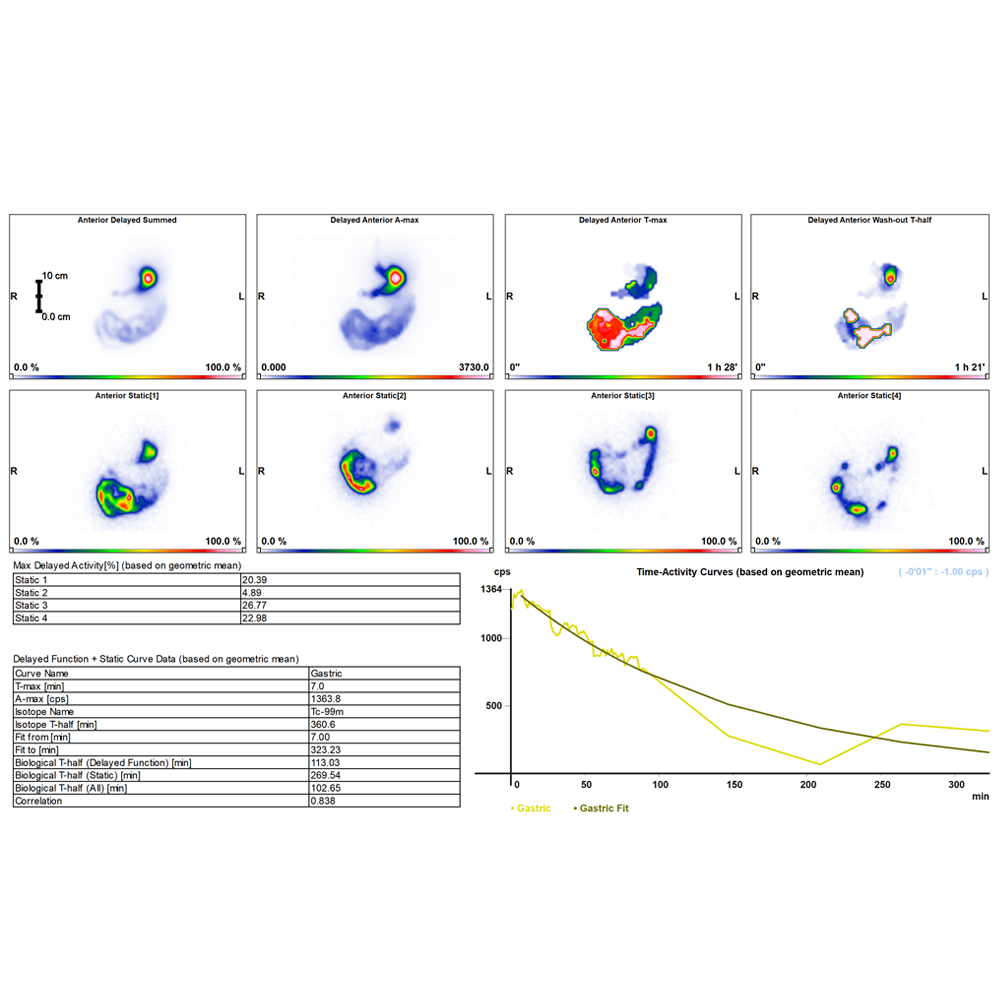 How can we help you?
Please contact us for technical information, products and services.
Get in touch